SRA Accounts Rules 2019 – Current Pressures [2022]
Webinar Details
Available now
Expires after 90 days
Trevor Hellawell MA (Cantab)
CPD Hours: 1
£35.00
Book Now!
NEW FOR 2022! This 1 hour webinar is presented by Trevor Hellawell and provides an essential and useful update.
Since the SRA's introduction of the 'new' Accounts Rules in 2019, the world has had other things on its mind. As pandemic restrictions are finally eased we are having to rethink our approach to the old 'steady-as-she goes' line and embrace the flexibilities and freedoms the rules seem to have given us. The new rules are a lot simpler and more flexible but equally significant, and anyone in the law firm, but especially those with responsibility for finance or accounts, needs to understand them thoroughly.
Setting the scene - a brief history of the Accounts Rules and an update on the SRA Risk Outlook
Key definitions in the SRA Account Rules 2019 – what is client money, exactly?
The key rules including:

Rule 1: General Rules
Rules 2 – 8: Main operative provisions
Rule 9 – 11: other issues
Rules 12-13: accounting systems and records
What relaxations can we take advantage of?
Rules that are most frequently breached: provision of banking facilities, residual balances and interest
Recording and reporting of breaches to the COFA & SRA
Other key duties on the COFA
Relationship with the Reporting Accountant – are they becoming more exacting in their investigations?

SRA Resources and checklists
What of VAT & Brabners – is it still an issue?
Key points to take away
Key relaxations of old duties and rigidities
Checklists for consideration – how good are you?
How do we deal with expenses and disbursements?
Regulation for grown-ups – the one KEY rule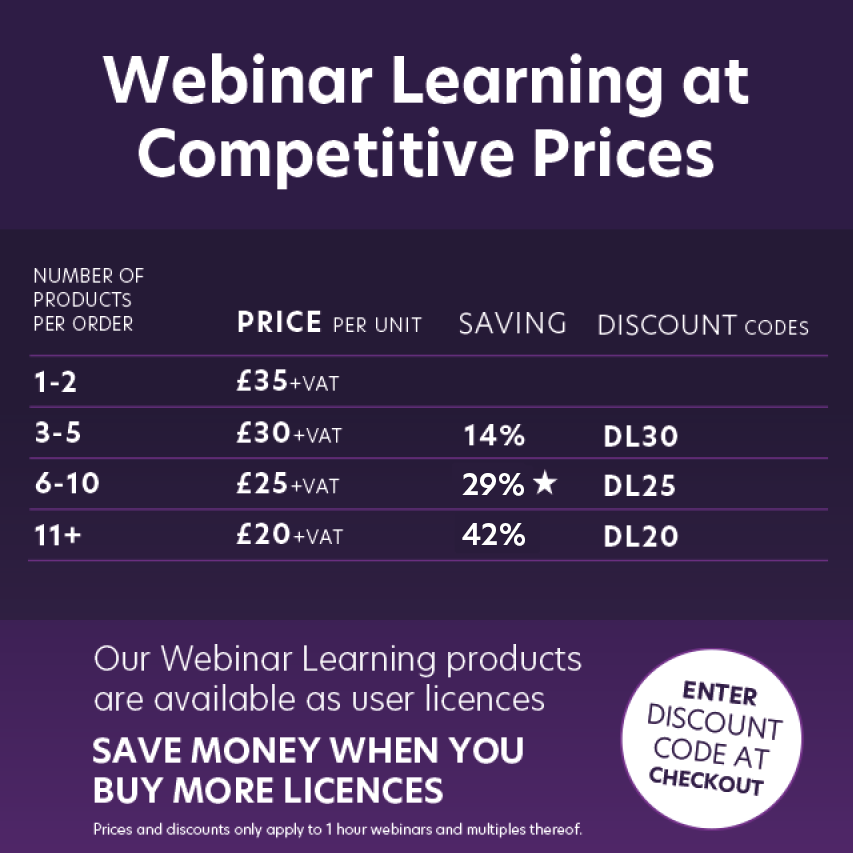 Our 4-hour SRA Webinar Bundle consists of 4 x 1-hour pre-recorded webinars.
Book our 4-hour SRA Webinar Learning Bundle. This package provides 4 hours of key mandatory CPD training, designed to be applicable to all lawyers, ensuring your skills are up to SRA standards in accordance with the competency statement. At £120+VAT receive outstanding professional development in the most cost-effective and timely manner, to fit all your compulsory training requirements.
Webinar Details
Available now
Expires after 90 days
Trevor Hellawell MA (Cantab)
CPD Hours: 4
£120.00