LAW2020 Online: Family Law goes live on 14th July 2020, on this day the pre-recorded content from our experts will be instantly accessible for you to watch for 30 days, the online exhibition will be available for you to browse and receive your additional 1-hour CPD from our 2020 bestselling Distance Learning catalogue.
You will also be able to participate in our live Q&A, Shape the Debate on 6th August 2020 between 13:00 – 14:00. We understand finding a date that works for everyone is just not possible so we will also send you the recording of the session once it's over just in case you aren't able to make it.
This LAW2020 Online event is available to purchase for just £99 +VAT by using the discount code FAMILY50 to save £50 at the checkout. Our registration sponsors LEAP Legal Services are also offering a special offer to book for £79 +VAT. If you would like LEAP to get in touch about their services, use the code LEAP2020 at the checkout.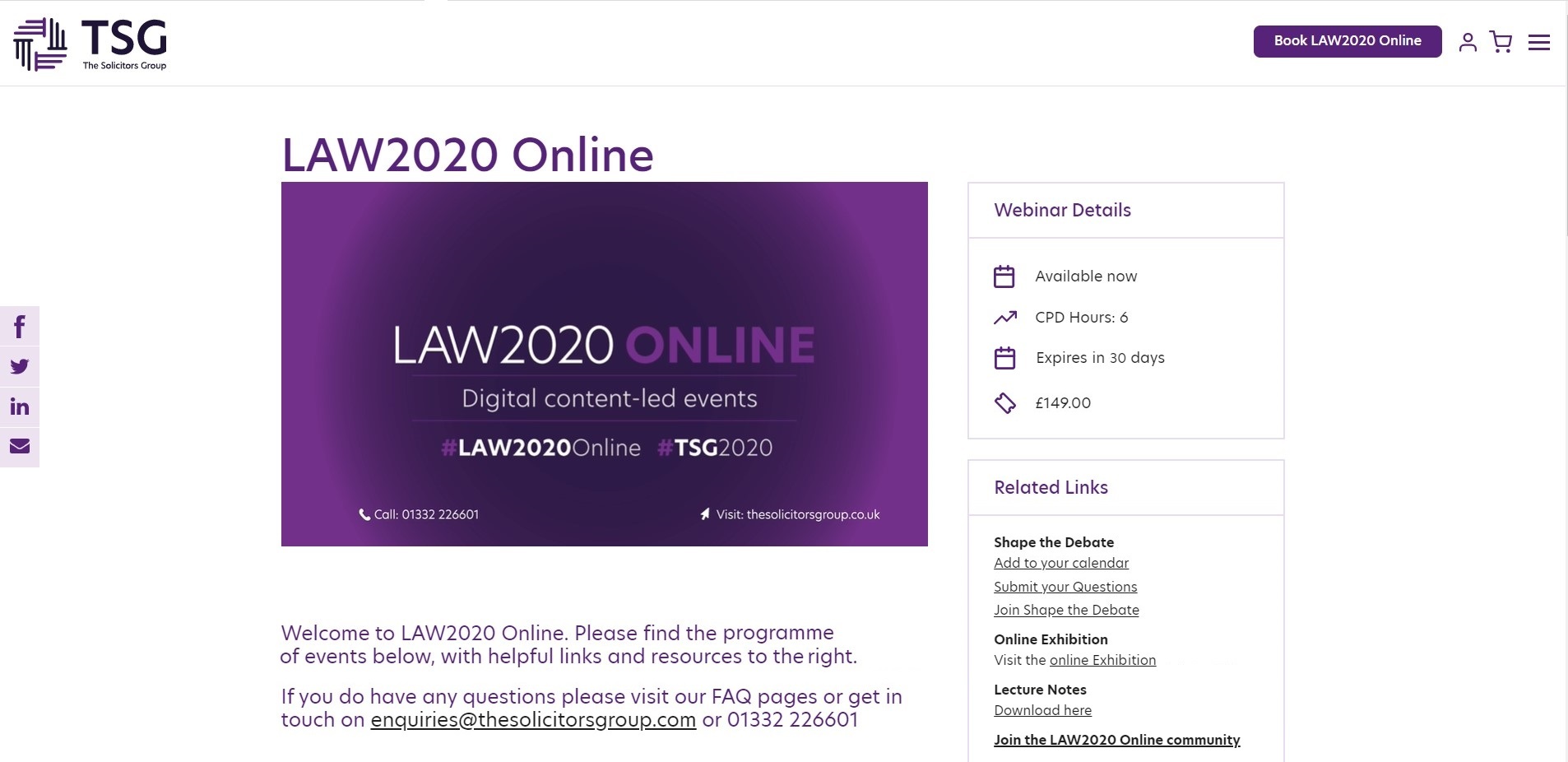 Your event includes 4 hours of pre-recorded sessions filmed just over a fortnight ago to ensure only the latest information is delivered. LAW2020 Online will significantly increase your knowledge of the most recent legislation and how to deal with court closures as a result of the pandemic and remote working becoming the norm. Stay connected to the latest developments, with sessions including;
Drafting the Letter Before Claim in a TLATA Case
Non-Court Dispute Resolution
Practically Drafting: Divorce, Finance, Child Arrangements and Domestic Abuse
How to Enforce: Private Law, Finance and Costs
On 6th August 2020 between 13:00 - 14:00 you will be given the chance to enhance your learning and ask questions like you've never been able to before. Elissa Dacosta-Waldman and Govind Singh will be answering all your questions surrounding the pre-recorded content and anything related to Family Law. By joining in the live session, hosted by Our Family Wizard, you can be a part of shaping the debate between your peers and the experts. You will have the opportunity to pre-submit your questions as and when you are watching the pre-recorded content, or ask them live on the day. We understand fixed dates don't work for all so the 1-hour CPD live Shape the Debate session will be recorded and emailed to all delegates booked on to LAW2020 Online: Family Law.
Our event sponsor line-up includes leading suppliers to the profession who provide thought leadership, products and services to aid your day-to-day role. The LAW2020 Online: Family Law online exhibition is free to attend for anyone, and as part of your online event package you can top up your CPD with a free 1 hour CPD webinar from our 2020 Distance Learning Catalogue worth £35 +VAT.
The LAW2020 Online Exhibition will open on 14th July 2020 and features leading suppliers such as LEAP Legal Software, Lextox Drug & Alcohol Testing and Practice Enterprise Finance. Showcasing the latest products and services, with opportunities to top up your CPD, you will have the chance to experience product demonstrations, engage with suppliers and take advantage of exclusive special offers.
Any questions you have surrounding The Solicitors Group new event format can be quickly answered by one of our team by emailing [email protected] or calling 01332 226601 or check out the link to our FAQs.